The need for mobility has grown exponentially in the last few decades. It doesn't matter if we are talking about work or just living we are always on the look for newer and metaphorically of course greener pastures. The process that is involved in actually moving your entire household there is an unbearable hassle to say the least. To save you some worries we recommend that you take advantage of our man and van removals in Clerkenwell.
Licensed professionals in EC1
A fundamental quality that all workers, irrelevant to the nature of their job or the type or size of firm the work in is politeness. A smile does not excuse a poor service, however how are you going to fulfill your job of satisfying your client's desires if you do not feel the least bit of respect for them or their personal belongings.
You need not worry about the disposition of our crew members as they are always energetic and highly motivates. To make sure they can uphold our reputation of excellence we have selected them from a pool of packers and movers in EC1 with verified previous experience. even the most skilled are not spared our rigorous training process to ensure excellence every single time.
Excellent equipment for relocation in Clerkenwell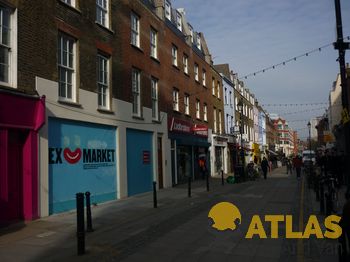 One of the best ways to guarantee the safety of the cargo that you are transporting is to pack it properly. We have the needed packing materials to do the job and ensure the safety of both your belongings and the environment, as they are biodegradable.
We are capable of doing rapid relocations in Clerkenwell thanks to our veteran drivers. They use a well equipped and well maintained vehicle fleet to deliver with haste and safety. All of their vehicles have transit insurance as well as GPS tracking.
Flawless service
We are well equipped and well prepared to do a variety of different, removal related jobs in EC1. We are proficient in waste disposal, we can remove junk from any sort of facility or home and nearly any size of rubbish is fair game. We can also offer different components of our service as a standalone service, like packing, transportation, van hire, single item deliveries etc.
We understand that what makes our services so attractive to such a great deal of clients is the convenience they offer. We are well aware of all the dangers and unpleasant experiences that come with even the simple of moves. Which is why we offer a service that is:
Safe
Affordable
Readily available
Full insurance is always guaranteed, no matter the needed service. We are available round the clock and during bank holidays at very modest rates, as we calculate the cost of our work based on the individual job.
Right in the middle of London, located in the borough of Islington is where the Clerkenwell district is located. A famous thing about the area is the Italian community that has historically resided there, earning it the moniker London's "Little Italy". The area has always been a part of London proper and mainly served as a sight of monasteries and prayer during the middle ages, it has a long history of being the site where ceremonies were held.