Moving boxes are one of the most important tools in the arsenal needed to tackle home or office removal projects. A sufficient number of removal boxes of the correct size and strength are crucial for keeping track and protecting items from bumps and grinds during handling and transit. Before you head off to your nearest store or specialised supplier, consider our moving boxes delivery service as the more efficient and affordable alternative.
Our moving boxes delivery service will save you time and money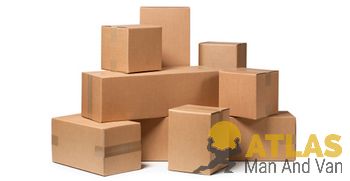 Atlas Man And Van will deliver the requested number and size moving boxes to your doorstep in a suitable time and day of the week. Should you be doing your own packing of items, remember – this takes time and effort so start packing well ahead of the actual moving day and give yourself time to organise and pack properly, it will be worth it. Our removal boxes delivery service is a cost effective alternative which won't mess up your allocated budget. Requesting delivery of moving boxes as part of your removal service with us will save money so don't bypass the opportunity to shave a few quid off the end price.
Fast delivery – anywhere in London
Man with van in Elmstead
Man with van in Custom House
Choose your removal boxes
We stock and supply four main sizes (also known as standard size) moving boxes. There is no limit as to how many or what size boxes customers can order through us. If unsure what size or how many boxes you need consult with our customer assistants.
Size 1: approximately 18″ x 18″ 10″ 450mm x 450mm x 250mm;
Size 2: approximately 18″ x 18″ 20″ 450mm x 450mm x 500mm;
Size 3: approximately 18″ x 18″ 30″ 450mm x 450mm x 750mm;
Size 4: approximately 18″ x 13″ 13″ 450mm x 35mm x 35mm;
Optionally, we can also arrange for removal crate hire – moving crates we stock on, also come in various sizes.