Give us a call if you don't have the required time, knowledge or tools to correctly plan and conduct your rapidly approaching business removal in West London. We are licensed and experienced man and van contractors and we have the necessary assets and manpower to flawlessly handle your relocation from start to end. During the years we have managed to maintain a 100% completion ratio due to the fact that we always give a 110% effort in order to meet the demands of our clients and match in full their expectations. Keep in mind that unlike other movers we won't think twice to walk the extra mile in order to complete your move with flying colours.
Hassle-free removals in West London
No relocation, be it a home or a business one, is stressful with us because we deliver all-round moving services in West London. Simply said, our courteous and motivated movers will not need your help during any stage of the moving process. From packing and furniture assembly to the loading of the moving van – our reliable moving exerts in West London will complete all stages of your relocation using quality moving equipment and spacious transit vans.
Most extensive West London coverage
Man and van in Fitzrovia (W1)
Man and van in Chiswick (W4)
Man and van in Ealing (W5, W13)
Man and van in Covent Garden (WC2)
Man and van in East Sheen (SW14)
Man and van in Earlsfield (SW18)
Man and van in Colliers Wood (SW19)
Our West London man and van company uses only the best and most dependable packing supplies. We use a wide selection of premium quality shielding materials because we know perfectly how delicate and sensitive office and digital equipment can be. We also use several different types of additional protective gear such as bubble wrap, furniture blankets, cushioned pads and more. We also sell packing products and the best part is that we will deliver them to you, free of charge.
Perfectly equipped movers in West London
We can easily load and unload immense quantities of times because we have invested into top-quality lifting instruments. This way our carriers can easily handle your possessions without ever endangering them. Larger objects are loaded and unloaded from our fully equipped vans and trucks with heavy-duty tail lifts. In many ways, it is because of our technical capacity that we are credited from providing the most punctual commercial man and van services in West London.
Rely on our affordable waste removal services
If you have a lot of junk and you do not want to drag it to your new house, use our inexpensive waste removal in West London. We employ certified rubbish collectors and we work in partnership with all registered junk depots in West London. Our large-capacity rubbish trucks allow us to collect bulky unwanted items such as broken furniture. We can quickly collect and dispose of your waste as long as it is not hazardous.
Man and van in Clapham (SW4)
Man and van in Earls Court (SW5, SW10)
Man and van in Kingston Vale (SW15)
Man and van in Kensington (SW7)
Man and van in Knightsbridge (SW1)
Man and van in King's Cross (WC1)
Best business moving services in West London
Owners of local offices in West London prefer to work with us because we don't mind carrying out the relocations for which we are hired after traditional work hours. This means that we can complete the West London commercial removals of our clients without disturbing their daily operations or halting their ongoing affairs. Atlas man and van is a company that aims to be your trusted partner when you are facing a move, so you can rest assured that we will never jeopardise your faith into our abilities and man and van services.
Moderately priced man and van services in West London
We are the people to call if you need affordable moving van services in West London. With us, you will enjoy nothing but low prices and top notch quality. That is because we, at Atlas Man and Van, have a versatile armada of fully serviced vehicles that are ideal for the removal, collection and delivery of even the bulkiest and heaviest of items and furniture. Our trained staff works hard to provide our customers with convenient moving services in West London.
Straightforward booking
You can easily book our West London man and van services, as we can be reach 24-hours a day, and we operate with a flexible schedule. Our agenda has always free slots for new jobs, even if we are contacted on a short notice. The easily way to hire us is to give us a call, you can also choose to drop us an e-mail or fill-in the online booking form that we have provided on our website.
We offer full removals insurance
We do our very best to deliver risk-free moving services in West London every single time. However, there are some unexpected scenarios which we cannot predict. We can only be prepared for them. This is why we offer our customers a moderately priced goods in transit insurance and a full removals coverage. In addition to that, our clean and advanced moving vehicles and our entire team of polite movers in West London are also insured.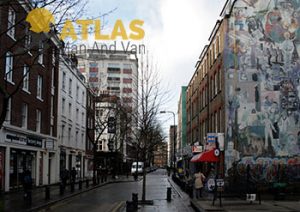 As you have already understood we operated throughout West London which is a sub-region of the city that is located to the west of the ancient city. The area is the location of Heathrow Airport which is Britain's main international airport. It is one of the business transportation hubs in Europe and the world. West London is also home to a number of internationally known landmarks such as Wembley Stadium which is one of the largest and most modern sporting facilities on the planet. It sits on the same site of the former Wembley Stadium and was opened in 2007. It has a maximum capacity of 90.000 spectators.
The Fulham Palace is another well-known local landmark. The structure dates back to the 13th century and was the country home of the Bishop of London for a period of eleven centuries. During the mid-20th century the edifice was recognised as a Grade I building by the local authorities and today is one of West London's most visited tourist attractions. Kensington Palace is also a high profile structure which attracts both local and foreign visitors by the number. It has been a royal residence since the 17th century.
West London is a place of diversity which includes parts of the London boroughs of Ealing, Brent, Camden, Kensington & Chelsea, as well as Hammersmith & Fulham. There are a lot of things which one can see and do in this part of the English capital since it is home to Kensington Gardens, the Royal Albert Hall, Hyde Park and many other unique sights and attractions.
Hampton Court Palace is one of West London's most visited and interesting landmarks. The structure was built during the early 16th century for Cardinal Thomas Wolsey. It became a royal palace soon after and today is one of the two surviving castles, the other being St. James's Palace that belongs to King Henry VIII. The edifice is encompassed by a Grade I parkland that is recognised as a historic garden by the local authorities.
It is hardly surprising that West London contains some of the most desirable and affluent districts in the UK capital. After all, it is home to many impressive open spaces, beautiful building and outsanding schools. Some of the best and most popular educational institutions in West London are Ark King Solomon Academy, Gunnersbury Catholic School and the London Oratory School. This part of the city is home to the University of West London, previously known as Thames Valley University.