The London Borough of Richmond upon Thames is special in many ways. As a start, it is the only borough which is located both sides of the Thames. Nevertheless, it is officially said that it is located in the southwestern side of the English capital. Another very interesting fact about Richmond upon Thames is that almost 50% of its territory is covered in parks and open spaces. That is impressive even in a green city like London. Some of the most popular parks in the borough include:
Richmond Park
Old Deer Park
Cambridge Gardens
Marble Hill Park
Bushy Park
East Sheen Common
Westerly Ware Park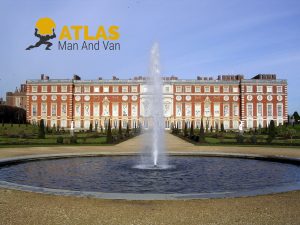 Even though it is an Outer borough, Richmond upon Thames is filled with various amazing and one-of-a-kind attractions such as Hampton Court Palace which used to be the royal palace of Henry VIII, the World Rugby Museum which was re-opened not long ago and the Grade I listed Ham House. So, even though the borough does not have a central location, it still attracts a lot of tourists. However, Richmond upon Thames is much more than just a leafy Outer London Borough that offers excellent conditions for sightseeing. Today, it may be a hotspot for families but in the past, it used to be home to both royalty and hippies.
Pictured: Hampton Court Palace
The personification of a family-friendly place
Most of the districts which are set within the territory of Richmond upon Thames are a magnet for families. Such is particularly the case with East Sheen. Often referred to as simply Sheen, this suburb is a fantastic place to move to if you have kids or if you want to start a family. It is one of the safest areas in London and it offers access to many good schools among which are Richmond Park Academy, East Sheen Primary School and Tower House Boys' Preparatory School. As a typical Outer London district, Sheen is also characterised by its low and mid-rise buildings. Here you will not find the skyscrapers you can see in the more central areas of the London. What you will find instead are an impressive number of historic and listed buildings and efficient man and van services in East Sheen SW14. This London suburb is located very close to one of the most fantastic parks in the country – Richmond Park and it has several conservation areas. Its busy high street, on the other hand, is where locals go shopping, run errands or simply grab a bite or enjoy a quick drink. Pubs, restaurants, supermarkets, cafes, offices… the commercial area of SW14 has it all.
Richmond upon Thame's royal connection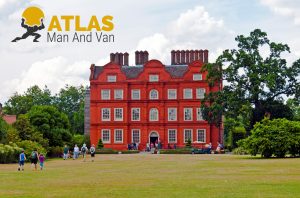 One of the most visited attractions in the London Borough of Richmond upon Thames is the Royal Botanic Gardens. They span over a territory of 326 acres and they include more than 40,000 plant species. That is why the Kew Gardens are now a United National World Heritage Site. This is not the only sight in Kew that contains the word "royal" in its name. Kew Palace, a British royal palace, is also situated in the area. It was used as a royal residence in the 18th and 19th centuries and even today it holds a special place in the royal family's heart. In 2006, Prince Charles hosted a special event there to mark the 80th birthday of Queen Elizabeth II. Kew was an important place for monarchs from the Tudor, Stuart and Georgian periods. Therefore, if you want to live in a district that has many royal links, hire a dedicated man and van in Kew TW9 and move to this beautiful suburban district.
Pictured: Kew Palace
A former hippie hub
Eel Pie Island is among the most unique places not only in Richmond upon Thames but in London as a whole. During the 1960s, this island quickly established itself as a jazz and blues hub thanks to the Eel Pie Island Hotel which was one of the coolest music venues in those days. In the 1970s, the island welcomed rock legends such as The Who and The Rolling Stones who enjoyed performing in the area. Around the same time, Eel Pie Island became home to one of the biggest hippie communes in the country. These days, the island is inhabited by about 120 people and most of it is closed for public access. But even here locals enjoy a smooth and hassle-free access to quality man and van services in Eel Pie Island TW1. Today, the island is far from being a magnet for rock stars and wild parties but, after all, we are not living in the 1970s any more.