Have you been to the London Borough of Islington lately? These days, this part of the English capital has little to do with the place it used to be just a few years ago. Islington has quickly turned into one of the most fashionable boroughs in the Big Smoke. The contrasts between poor and affluent districts in the borough continues to exist even today but now it has become less striking, as many the most deprived parts of Islington have witnessed some improvement. Also, there are a few things that seem to unite the mix of neighbourhoods in this part of London like the impressive presence of fine restaurants, live music venues and excellent boutiques, for example. Islington has also become one of the most artistic boroughs in the UK capital since it is filled with galleries such as:
Eagle Gallery;
Cubitt Gallery and Studios;
Estorick Collection of Modern Italian Art;
Cross Street Gallery;
Japanese Gallery;
Art Space Gallery;
Tintype;
The Islington of today has little to do with the Islington of the past which is why it has become such an attractive part of London.
A top spot for foodies
Are you a fan of Italian cuisine? Or maybe you prefer pan-Asian dishes? The London Borough of Islington should be among the first places to visit if you are an avid food-lover. This is a generally diverse borough which is why here you can find not only quality traditional dining restaurants but also gastronomic pubs, French brasseries, Mediterranean dining rooms, Indian street food stalls and more.
One of the best areas for foodies in this London Borough is definitely Clerkenwell. Although this used to be one of the capital's busiest industrial districts in the past, today it boosts with numerous exclusive restaurants. Only a few decades ago it was known as the area with one of the largest Italian immigrant communities in London and thus the many outstanding Italian dining places in the area. Interestingly, many start-up businesses have offices in the area which makes EC1 a great spot for living and for working. So, if you want to experience the tasty side of Islington, call a licensed man and van in Clerkenwell EC1 and make this neighbourhood your home.
Round-the-clock entertainment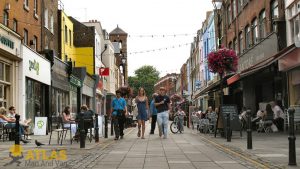 It is hard to get bored in Islington because this is simply a borough that is full of life. It is located very close to the city centre and the abundance of local landmarks is quite remarkable. From popular museums like Islington Local History Centre and London Canal Museum to amazing theatres like the King's Head Theatre and Hen and Chickens Theatre – Islington's cultural attractions are incredibly diverse. You can find many fascinating places to visit even in the borough's predominantly residential areas like Finsbury. Namely this district is home to Islington Museum, Exmouth Market, and Sadler's Wells Theatre. Finsbury is only a half-hour walk from the City of London and it offers fast access to all sorts of professional services including to reliable man and van in Finsbury EC1.
Those of you who are looking for night-time entertainment won't struggle to find a great deal of it in the London Borough of Islington. This part of the English capital has an energetic and versatile nightlife scene which features everything from live music and clubbing venues to lounge, karaoke or all-day bars. And as it was already mentioned, the selection of art galleries and top-notch restaurants in Islington is pretty impressive too.
Islington's quiet side
It would be wrong to assume that the Borough of Islington can be appreciated only by tourists and party animals since it also has a more relaxed and serene side. Among the Borough's most peaceful areas is De Beauvoir Town. Do not be fooled by its name, because this district reminds more of a village than of a town. The abundance of Victorian housing, family-friendly amenities and quiet streets here is surprising given the neighbourhood's close proximity to the City of London. That has its advantages such as the availability of an insured man and van in De Beauvoir Town N1 at any given day. Some of Islington's most expensive homes are also located here around De Beauvoir Square.
Not many other London Boroughs can offer the opportunity to play and have a few together with the chance to enjoy cultural entertainment or a quiet stroll along green and suburban-like squares but Islington is one of them.