If you are planning a house removal or even just transporting a single bulky piece of furniture from point A to point B in the capital during the most freezing months of the year, you might feel extra worried. The thing is that moving is always stressful, but there are certain factors that make it even more problematic in winter. But have no fear, if you know what to expect and you are prepared to meet the challenges, you will have no problems at all with your winter-time relocation.
The weather is the most important thing to consider
London has never been famous for its pleasant weather conditions, but things become even more complicated in winter when temperatures drop significantly and rather quickly, and of course the notorious London rain is substituted with the less notorious but equally unpleasant London snow. Since you will be moving houses, this means that driving will be an integral part of your life during this time, which is not good news, because road conditions can become pretty challenging at times.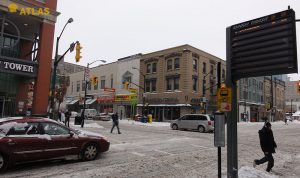 Even if we ignore the fact that the traffic is traditionally heavier when the weather is bad, you will still have to consider the simple fact that throughout winter it takes you more time to reach any destination by car than when the conditions are better. You should take into account such possible delays when you are preparing the schedule for your moving day.
Additionally, in case of heavy snow and rain on the day of your relocation, it might be possible that you will be unable to safely load your boxes on the van, let alone drive it to your new place. There is a distinct possibility that you are unable to actually carry out your relocation when you want it to, so you might need to be prepared to push the whole thing a day back or forward depending on the forecast. You should explicitly clear that with your moving company.
It's holiday season after all
Winter is the season that is most saturated with holidays and celebrations. Managing the completion of any work becomes even more complicated during this festive time, because of end-of-the-year office engagements, Christmas parties and off-duty days. It is entirely possible that due to those factors the moving firm you have laid your eyes upon is not available for the day and time that you want to hire them for. Your safest bet would be to just book your licensed man and van in Colliers Wood SW19 or other place you will be moving to and from as early as you can in order to avoid unpleasant surprises.
But the most important thing to remember remains the fact that you need to just relax and do not let the stress overwhelm you. The more worried you are, the more likely it is for you to make a mistake or forget a crucial item on your to-do list. Moving is, as always, a part of life and there is really no reason why you cannot manage it properly.