Moving furniture and bulky appliances such as fridges, ovens and freezers for example from one address to another is a pretty tough job, especially if your property has narrow stairs or lacks an elevator. No matter whether you are just moving this one individual item or you are in the middle of planning a major house relocation, it is more than likely that you would want that your goods are protected and arrive to their assigned location not only on time but intact. There are ways to do that.
A suitable moving firm goes a long way
First and foremost, hiring the right Man and van company in Earls Court, or wherever you are based, is going to help you immensely. Man and van movers are trained in relocating furniture swiftly and securely. Look for a licensed contractor that has good reviews by clients. They will not only see if the furniture and appliances can be disassembled and packed properly, but they will have a suitable moving van along with safety and loading gear on it that will guarantee nothing bad happens to your goods while they are on the road. Finding a vetted man and van in Eden Park or any other place in London for that matter is not hard at all. After all, we live in the digital age when all the information you seek and need is a simple click of the mouse away.
Parking and avoiding fines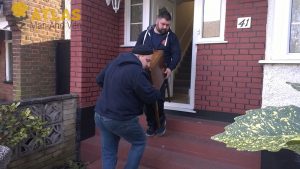 When you are moving bulky furniture you will want to minimise the distance on which the item in question will have to be carried by hand or on a trolley. In order to do that you need to make sure that the van you will be using for transporting it can be parked as close to your front door as possible. Now, parking regulations can be pretty strict in some parts of London. In many cases you are going to need a special permit from your local council in order to park the van on the most appropriate spot for the job, so check what the parking regulations in your district are.  Even if you have to pay a small fee for the parking permit, it will still be worth it – it is going to be less than the fine you will get if you do not have the proper documents, or the damage that your items can sustain due to the van being parked too far.
Free the way
The last step to take is to free up the route on which you will be moving the piece of furniture or appliance within your house/apartment. Remove all other furniture and pieces of decoration so that you do not have to worry about bumping yourself or the item into one of them. Thus it will all be an accident free experience and you are going to save yourself quite a bit of trouble.