Studies have proven the moving is one of the most stressful experiences that a person can be subjected to. Therefore, we have decided to turn your attention towards several tips that will allow you to successful deal with the strain that will come along your pending relocation.
Always have a positive attitude
Adopt the right mentality
It does not matter whether if it was your decision to move or not. The reality is that you are relocating and a positive attitude towards the upcoming endeavour can go a long way and make the difference between a nightmarish and pleasant experience. Instead of getting angry about the fact that you will be moving and leaving behind your known environment, try to stay optimistic and think about all the new opportunities, places and contacts that await you.
Organise your removal
Moving without a work plan will certainly make things worse. In fact, it will unequivocally elevate the tension and make the entire experience even more stress than it should be. One month prior of the relocation, sit down and draft a removal schedule. This will allow you to know in beforehand, what tasks you should handle before the arrival of the movers. It will also give you the peace of mind that nothing will be left behind.
Research your new neighbourhood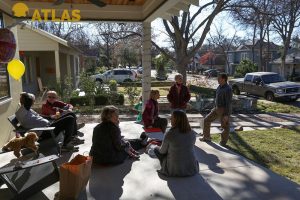 We live in the 21st century, and you should not jump into the deep end of the pool. Take your time and learn as much as you can about the new area. Gather information about the local landmarks, public services, amenities, service providers and etc. This will permit you to acclimate more easily to your new surroundings. You can also enrol into a club that interests you long before you actually arrive in your new neighbourhood. By doing so, you will not put a stop into your hobbies and you will give yourself the opportunity to meet new people and start new friendships.
Have seasoned movers handle the logistics and execution of your removal
Hire professional movers
As it was mentioned several times by now, relocations are stressful jobs. You can lower the pressure by delegating your upcoming removal to licensed contractors that provide comprehensive home removal services in London such as Atlas Man and Van. This way, you will not have to spend hours packing your belongings and lifting heavy boxes, so that you can drive them throughout the city.
Organise a farewell party
Do not leave things hanging with your friends and current neighbours. Instead, host a goodbye party and enjoy your time with your closest people, as you do not know when it will be the next time that you will be together. Also make sure to collect their contact details, so that you can keep in touch with them.
As you can see there are mechanisms that will allow you to cope with the stress of your removal and that will help you get used to your new environment. Now the only thing that is left for you to do, is to pull up your sleeves and start planning your rapidly approaching relocation.