If you have decided to take your domestic appliances with you when you move home, you should get ready for a bit of a challenge since these items are quite heavy. Also, they can easily get damaged during the relocation process. That is even more true when it comes to washing machines and tumble dryers. But if you know how to pack and move them safely, you will have nothing to worry about. To move these two house appliances in a stress-free way, you will need the following things:
Tape
Moving blanket
A large dolly
Also, you may need to use the services of an electrician. If you are planning to use affordable home removals in London, you should ask your team of trained movers whether they will be able to organise every step of the relocation of your washer and dryer. Some reliable moving van companies offer such comprehensive services that you may not even need to hire an electrician.
Turn it off and disconnect it from the network
At least one day prior the moving date, switch off your washing machine and tumble dryer and disconnect them from the power network. You will also need to turn off the water supply of the washer. If you have any clothes inside the drums, remove them. Open the doors of the washing machine so that its insides can dry well before the relocation itself.
Prepare the appliances for packing
You will not need to find a large cardboard box for your dryer and washer. Instead, you can simply wrap them with furniture blankets. That will cushion any potential blow and protect the appliance from getting scratched. You can also add towels, pads and old clothes for the same purpose.
Stabilise the drum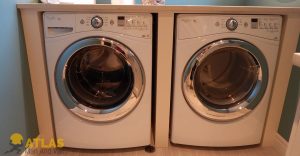 One of the most delicate and important parts of every tumble dryer and washing machine is the drum. If you do not stabilise it properly, you risk damaging it. Most dryers and washers are sold together with special bolts and pins that you can use to stabilise the drum. If you can't find them, call a technician who can secure that part of the appliances for you.
Tape it and pack it
Put some packing tape around the doors and the cords of the dryer and the washer. That will keep them in place during the transportation stage. Also, don't forget to tape the blankets around the appliances. Otherwise, they will not be very effective in protecting your washing machine and your tumble dryer.
Move it
Under no circumstances should you attempt to lift and move the washer and the dryer alone. Always have someone else to help you. Rent a moving dolly or trolley and use it to move the appliances from the house to the truck. Rely on a moving vehicle that has a van ramp to ensure a smooth and effortless loading and unloading process. Use straps and ropes to secure the position of the appliances in the moving van and do not stack any heavy items on top of them.