Moving out or in an old property can be quite exciting for a number of reasons, but it also poses a number of challenges. For starters, most old Victorian houses throughout the city feature narrow corridors and staircases, and even if they are built on several storeys, they lack elevators, which can be rather problematic for both the people that are moving, as well as the professional removalists who are helping with the job. But if you are properly prepared to face the challenges ahead of you, it is quite unlikely that you will have any problems with it.
The right helping hand goes a long way
One of the first things that you need to do if you are going to properly handle a troublesome relocation is to find the right moving company for the job. You should not have a very hard time finding reliable man and van firm in Creekmouth IG11 or wherever you are currently based, especially once you do the proper research. Some tips that might be helpful to you:
Hire only licensed and properly insured movers
Ask if there are any mid-week and other special discounts that you can make use of in order to save some money
Save yourself some trouble by opting for additional services from your moving contractor such as house clearance, storage or end of tenancy cleaning, if they are offering them.
Once you lay your eyes on the moving company that you want and book them for the day and time of your removal, just make sure that you inform your movers about the special conditions at the premises you are currently at so that they can make the necessary preparations and guarantee the safety of your goods.
Packing will save you a lot of pain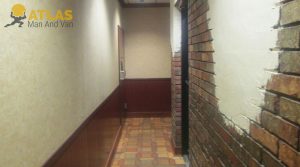 Packing is among the most important jobs that a person goes through when preparing the move. When there is danger of injuries or damage to your beloved items due to cramped spaces and long distances that the boxes need to be carried by hand, you should be even more careful. Pack your items properly and do not be cheap on the supplies – purchase double walled removal boxes and industrial grade bubble wrap, so that even if an accident occurs, your goods have a chance of surviving without damage.
Start preparing early
Preparation is the key to success when it comes to moving homes, and when there are special conditions, the whole planning process becomes even more important. So, give yourself enough time to prepare. Make a checklist as well as a schedule to which to stick when you commence packing and moving.
When there are special circumstances concerning your move you do not want to have too many reasons to worry about stuff, and an air-tight schedule and an exhaustive check list go a long way to ensure that you have the stress-free experience that you are longing for. If you need help, just remember you can always ask your movers for it.